Cycling UK's Cycle Friendly Employer Accreditation
Brought to you by Cycling UK, the Cycle Friendly Employer Accreditation is the international benchmark for active travel culture and infrastructure in the workplace. It shows the world that when it comes to climate change and staff well-being, your business means business.
Cycle Friendly Employers
The Cycle to Work Scheme is the first step to take to incentivise employees to choose cycling for their commute.  However, to further encourage the adoption of active travel within the workplace, it is important to consider whether other factors would help make cycling an easier option and enhance your reputation as a cycle friendly employer.
Create a cycle friendly culture
Provide cycle friendly facilities
Implement cycle friendly policies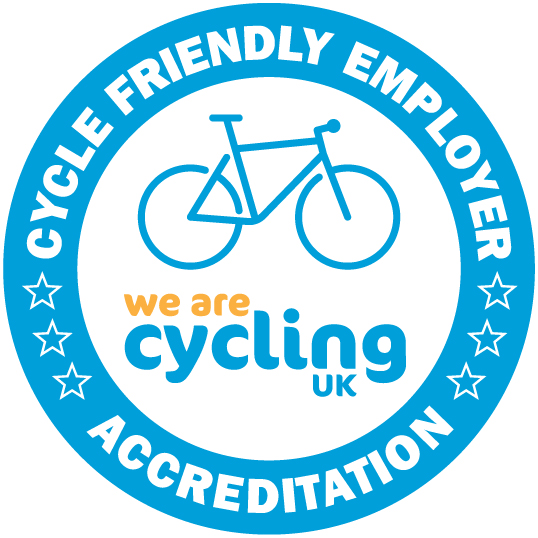 How the Cycle Friendly Employer Accreditation works
Following a survey, organisations are scored on their cycle-friendly culture, infrastructure and policies and recognised with either a gold, silver or bronze award.  You will also be provided with a report with advice for further improvements and given access to bespoke, ongoing support from Cycling UK.

Special offer for GCI customers
GCI customers will receive a 30% discount on the accreditation fee.  Accreditation is valid for 3 years.
Fees
| Organisation size | Accreditation fee | Audit & Development Report |
| --- | --- | --- |
| 10–49 employees (1 site) | £400 + VAT | £600+VAT |
| 50–249 employees (max 2 sites) | £1,100 + VAT | £800+VAT |
| 250+ employees (max 3 sites) | £2,000 + VAT | £1,600+VAT |

Carbon Reduction Plans
Employee commuting emissions is a reporting requirement of the Greenhouse Gas Protocol and falls under Scope 3 which means its outside your company's direct control.  However, as an employer, you can take direct action to encourage staff to reduce their carbon footprint by choosing to cycle to work.  More employees cycling means reduced emissions reporting.