The Challenges Facing Modern Office Cycle Storage
We know more people are cycling to work. We've seen the demand for new bikes reach an all time high, and there's a big push towards better cycle lanes and road safety. But what about when commuters arrive at work? How important is office cycle storage and cycling provision?
Well, research commissioned by the British Council for Offices (BCO) found that 38% of office workers surveyed said they would consider commuting to work by bike if their office provided better cycling facilities.
Crucially, the research suggested that the focus needs to be directed towards better quality facilities, rather than increasing the quantity.
Office buildings have begun incorporating multi-functional spaces, with separate booths and open plan areas, as well as gyms and other facilities with an increased focus on staff wellbeing. But what benefits can cycle storage bring?
Cycle commuters able to find and locate a parking space have generally been content. However, to continue to attract more cycle commuters and improve staff well-being, what steps do cycling facilities need to take?
Modern cycling facilities
Wherever you lock or store your bike, security and access are usually the first priorities. Offices therefore need straightforward, easy accessibility that remains secure and safe.
You can find the highest spec cycle store, with premium racks and lockers; but if it takes several staircases and doors to reach, it's unlikely to be the most popular with staff. For first time commuters, finding a cold, concrete basement store is enough to put them off cycling to work.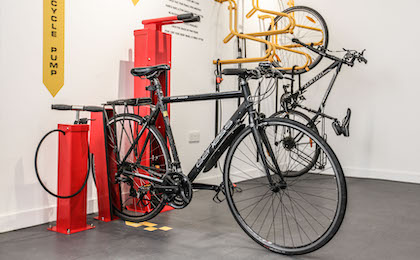 Instead, inviting cycle commuters to an easily accessible place, with friendly wayfinding and visible and bright graphics, is likely to transform and encourage the cycle commuter.
The quality of cycle racks also makes a difference, too. Commuters require a variety of different rack options that protect the bike and are easy and safe to use. The best cycle stores therefore offer a mix of traditional stands, vertical wall-racks, and two-tier racks. This ensures that no matter the size of your bike, or e-bike, it can be safely stored.
E-bike sales in the UK are booming, especially for commuters. E-bike charging points, as well as the correct bike racks to accommodate the extra weight and size of a standard e-bike, will need to be provided in the near future.
Additional Workplace considerations:
If you've ever turned up to work sweating after an hour's cycle commute, you'll know a shower is necessary to get on with your day. Showers are most widely used by cycle commuters. Ensuring there are enough to go around, plus adequate locker storage, is crucial.
Finally, bike repair stations provide commuters tools and a pump to fix any pressing maintenance issues. These stations keep cyclists on the move, and give peace of mind should you get a flat tyre on the way to work.
Cycling provision is a simple solution to keep people riding to work and improve staff wellbeing. If modern offices invest in the right solution and improve their facilities, the number of cycle commuters is sure to only increase further.